A Christmas Wish List of Real-World Magic
Do you ever find yourself wishing for things that don't, you know, actually exist? I think one of the main things that has always drawn me to fantasy is my persistent dissatisfaction with the real world. This can't really be all there is, can it? And so I find refuge in stories.
But then I thought, how cool would it be to come up with a list of magical things that do exist in the real world? It could be my Christmas wish-list of sorts, and my gift to you, because we all need a little bit of magic in our lives, don't we?
Frozen realms
A.k.a – Narnia. Yes, I know Narnia doesn't actually exist (a fact that utterly broke my eight-year-old heart). But that doesn't mean we don't have Narnia-like realms of ice and snow. Perhaps one of the most stunning examples I've recently found are glacial caves, such as Vatnajökull in Iceland. Even more important to enjoy it now, as it might be gone in less than a hundred years.
Overgrown castles
Castles are cool, but overgrown castles slowly being consumed by nature fills me with a warm, fuzzy feeling that some people might find disconcerting. And such a place really exists: Château de la Mothe-Chandeniers in France.
Water Mills
Mills might not seem very magical, but they attract magical creatures of various sorts. There's a story of a miller that (accidentally) promises his newborn son to a water nixie (it happens).  Tum's character from Hazel and Holly was inspired by the Kvarngubbe ("mill old man" is the direct translation) in Nordic lore. The Kvarngubbe is a gnome-like creature that lives in the lower portion of water mills and is a sort of caretaker of the place. He likes to play the violin at night, and if you upset him (such as milling at an inappropriate hour) he'll sabotage the machinery. You can keep him happy by giving him a silver coin or tobacco. He might also cause trouble because he's lonely.
Plus, just look at this…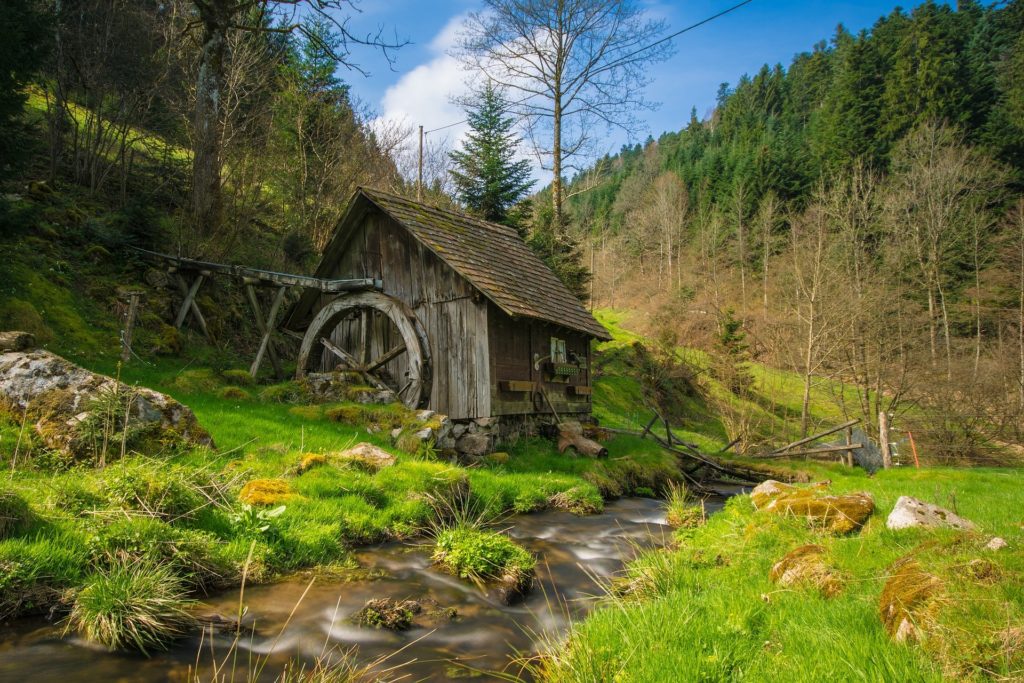 Tree Houses
I'm not talking about the cramped, rickety huts that you might have built with your dad way-back-when. I'm talking about sophisticated architecture… in trees. Furnished with, well, furniture. Tumblr looks like an excellent place to see treehouse pictures from all over. And in my Google adventures, I found out there's numerous resorts where they have tree houses for cabins. Like this one in Washington. Who knew?
Do you know of any magical real-world places? If so, please share in the comments!