A Graveyard House
Well, here in Sweden the trees are already starting to turn. The summer has pretty much come and gone without much to show for it other than high vet bills. Sally Kitty is doing all right, though I can't really say she's doing well. Her latest blood work has shown her kidney function has worsened, as has her rather severe pancreatic inflammation. Yet even for all that, she's pretty chipper, affectionate, and eats well. So, that's something, at least.
Anyway, aside from visiting the vet every other week, we've spent a lot of time house hunting. Well, not so much during July, as the country generally shuts down during the month as everyone goes on vacation. But it's definitely started up again as houses are once again listed.
Let me just say that the housing market, right now, is bonkers. People seem to be throwing money at houses beyond all reason. But the process does have its moments. Like this one farmhouse we considered looking at. Originally built in the 1800s, though a lot of its original details had been renovated away, unfortunately. But what made this house interesting is that, when looking at a map of the property, it had three runic "R"s. Like this: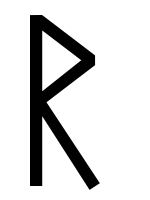 I've seen those letters on maps before, and I've always assumed they mark the locations for rune stones, which are scattered throughout the Swedish countryside. Like this one just hanging out by a road. Or another one that's been built into the foundation of a church.
So, Anders ends up contacting the realtor to ask if there are any prohibitions in place to protect the culture and history surrounding said stones. The realtor replies that those aren't rune stones indicated on the map, they're burial sites from the Iron Age.
Uh, OK. Kind of creepy, but… COOL! How's that for history? Of course, my mind started working overtime with all the different possibilities, and constraints. Are we allowed to dig? Surely just having a garden wouldn't be a problem, would it? But… what if I am digging in the garden, and I dig up a hand. How will I feel about that?
We started calling that house the Graveyard House. Ultimately, we passed on it though. Despite its excellent story possibilities, the amount of work it needed was rather daunting, as it had several old outbuildings that looked like they were in the process of falling over. Plus, it ended up selling substantially over the asking price. Remember what I said about people throwing money at houses? Yeah.
Still, though, it's fun finding little gems like that.
Would you want to live in a house surrounded by burial grounds?