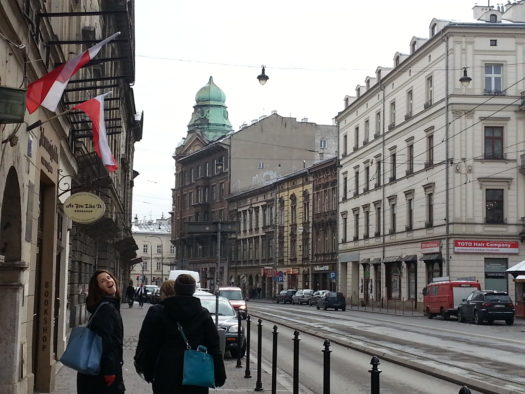 A Jaunt in Kraków
So, a couple of weeks ago we got a lot of snow. Like, blizzard amounts of snow. Buses got stuck, trains were canceled, people got stranded. It was the most snow Stockholm had gotten in November in over a hundred years. Madness.
Luckily this all happened the day before I traveled to Poland, and I'm only being partially snarky when I say "luckily." Had it been the day of, I doubt I would've gotten to the airport at all. Trying to get there the following morning was certainly a little adventure in and of itself.
But anyway… Poland! I went to Poland a couple of weeks ago – specifically Krakow. I don't think I've mentioned it on the blog, but I joined a writers group last year. We're all English speaking expats living near Stockholm, and we went to Krakow together for a writing retreat. Good fun.
Krakow is a lovely city. Architecturally, it looks a lot like Stockholm, and yet still very different. Krakow is a bit rougher around the edges, its age more apparent. Yet there's also a certain kind of liveliness that Stockholm lacks. And don't even get me started on the food. So good. I love it here in Sweden, but the food is really underwhelming.
We spent part of the time doing writing-related workshops, and the rest of the time walking around exploring and eating at various restaurants. We went to the Wieliczka Salt Mine, in which I took numerous pictures, but after the fact all look rather drab and don't at all capture the awesomeness of that place. We also discovered Mad Dog shots…
Anyway, here are a few pictures that turned out decently. For some reason a lot of my images turned out blurry, which I didn't notice until I got home. Also, I took quite a few pictures of doors, but I'll only include my favorite one here. Maybe I'll share my door infatuation on Instagram. I haven't decided. The statue is from the salt mine, and is carved from salt.