Magical Moments
Well, May has gone, and I let it go by quietly as far as the blog is concerned. In recovering from the craziness of the A to Z Challenge, I pretty much retreated to my hidey-hole, working on finishing up my latest editing pass for my Tree and Tower sequel. This biggest news on that front is I finally settled on a title: A Shadowed Spirit. Only took me a year and a half. On the plus side, Lulu tells me it has a 69% chance of becoming a bestseller, so… bonus! The release date for that book is still on schedule for early 2016.
And since I'm in update mode…
The ebook of tree stories is coming along! It's pretty much formatted and done, as is the cover I threw together. I just need to do a proofreading pass and then figure out how to distribute it. I'm aiming to get it out sometime this month.
I've also gotten started on the Hazel and Holly series. I'm currently working on the second-half of the second installment (chapter?). This is such a weird project for me; I'll probably have to write a separate blog post about it all on its own. But it's weird because it feels like a novel that I'm then looking at through a serialized lens. I have no idea what the end result will be. I feel like it might end up as some weird conglomerate… thing… that is neither a novel nor a series. It may be hideous, and I will have to hide it away and only unveil it at certain moments with a resounding "Behold!" upon which children will cry and women will faint.
Anyway…
While lurking in my hidey-hole, I've stumbled upon some magical moments while out in the woods (yes, my hidey-hole encompasses woods). My daily woodland wanderings have become moments of recharging, of finding a quiet and centering place. And so here a few little moments that brought me small bits of happiness, and so I thought it'd be nice to share.
Tree Pollen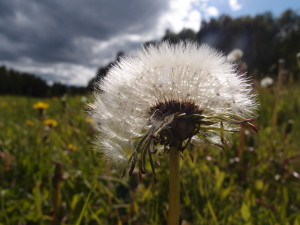 I know, for those with allergies, pollen is pretty much the bane of existence. And if you are susceptible to allergies, Sweden is a place you probably don't want to be. The pollen levels here in the spring are crazy. It collects in puddles and coats windowsills in layers of yellow dust. Luckily, I don't have allergies, so I get to enjoy the explosion of spring on all its levels.
My favorite among this pollen bombing is from one particular tree. I'm really not sure what kind of tree it is. My guess is it's some kind of cottonwood, because that's the kind of pollen it produces. Cottony, feathery tufts that float on the air like springtime snow. It's beautiful to look at and to walk through. It makes me feel like I'm in a fairy realm. If you've ever seen Legend, you'll know what I'm talking about.
I didn't get a picture of the tree pollen, so here's a dandelion instead. Fun fact: "dandelion" in Swedish means "worm rose" (maskros). How cool is that?
Ladybug
Such remarkable little creatures. I've never liked insects, but for some reason I gave these a pass when growing up, and I would often spend my recesses at school looking for ladybugs, giggling with delight as they'd crawl over my fingers. Even now, seeing a ladybug on a leaf still fills me with a measure of glee, reminiscent of those bygone days.
Apparently in folklore, ladybugs are harbingers of good things to come. Either in luck, harvests, or in helping girls find future husbands. Because, you know, it's not proper folklore until you've introduced some whack-job method of finding a mate. Fact.
Here's a neat little website dedicated to ladybugs.
Blueberry Lanterns
I've lived in Sweden for fourteen years now (which blows my mind when I think about it), but I've only recently noticed that unripe blueberries look like tiny little lanterns. Or, as Anders likes to call them, elf hats.
Here's a couple of pictures of them that I took as best as my photography skills would allow. Honestly, I'm pretty pleased with these, considering the mosquitoes were circling as they sized me up for lunch.
Just goes to show that even when you're comfortable with your surroundings and you think you've seen it all, if you take a moment to look, you still might find things that surprise you. That's pretty magical, in and of itself.
Do you have any favorite magical moments?