Giveaway Round Three
It's time for another giveaway! By now you're probably thinking, "Again with the giveaways!" In which case, I present you with cats on a piggy blanket my sister made for me.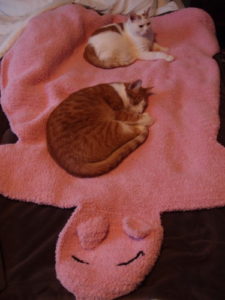 FYI, I love pigs.
Anyway, here are some stats for the previous giveaway:
Entries: 1275
The winning countries included: India, United States, Jamaica, Iraq, Mexico, Vietnam, Canada, Romania, New Zealand, Argentina, Italy, and Russia.
In case you missed it, you can read more about the slew of giveaways here.
[button link="https://www.goodreads.com/giveaway/show/109439-the-thirteenth-tower" type="icon" icon="heart"] Enter the giveaway![/button]